The curatorial policy developed by Joshua Thomson for Northampton's Fishmarket Gallery aimed to create audience access to both emerging talent and work of international significance, without compromising art or under-estimating audiences.
The Fishmarket acted as both a contemporary arts space and a public thoroughfare. Exhibitions in the main gallery explored this duality of purpose enabling public art to be hosted in a gallery setting and vice-versa.

The programme sought to be relevant to local visitors, placing local issues and history in wider critical frameworks, encouraging and supporting free debate.

Acting as a platform for all art forms The Fishmarket encouraged visitors to engage with multiple disciplines. Our aim was to stage exhibitions that were both entertaining and intellectually stimulating
The information below comes from the original gallery press releases.


Hiker Meat - Jamie Shovlin

July - August 2010

Showing on 60 screens in a spectacular installation in our main gallery, Jesus Rinzoli's infamous 1980s exploitation film will be accompanied on the opening night by a live score from legendary Krautrockers, LUSTFAUST.
Jamie Shovlin premieres his new project 'Hiker Meat' at the Fishmarket Gallery, Northampton, opening July 9th at 6pm and running until August 28th. Hiker Meat is a partial adaptation of an earlier work, Lustfaust: A Folk Anthology 1976-81 (2003-6), an archive of material from the fans and musicians of a fictional German band. At that project's periphery was a narrative sketch for the exploitation film Hiker Meat - for which the band composed a soundtrack - and these notes are taken as a starting point for the Hiker Meat Project.
Hiker Meat will be premiered with a live score to performed by Lustfaust. This will be followed by an installation of sound and videos loops that simultaneously highlight and deconstruct both Rinzoli's film and the exploitation genre that spawned it. The performance will see the band compose and reconfigure the film's imagery and sound across 60 televisions and a collection of speakers suspended from the beams of the gallery.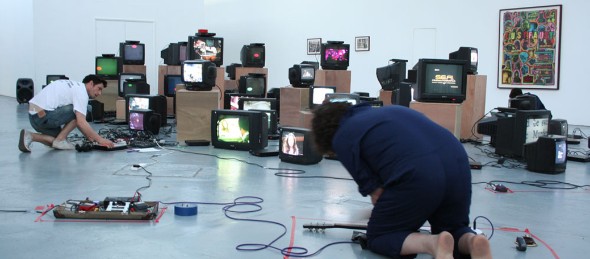 My Heart Spins on the Grill - Stephen Mathewson
Abstructavist Drawings - Mark Farhall
April - June 2010

Originally from New England, Mathewson currently lives and works in Vienna, Austria.

Through his site-specific narrative paintings Mathewson has developed a surreal and heartbreaking narrative that blurs the boundary between fiction and reality. My Heart Spins on the Grill will introduce us to a range of eccentric characters and situations.
You will meet young Charles, trying to cope with the untimely murder of Carl, his father. You will witness the attempted kidnapping of filmmaker Dazz Konwinski, director of the Celtic Dentist! You will encounter Cat Fischermann - comedian and actor from the "old school" who having successfully faked his own death has to endure the ups and downs of not legally existing.
To celebrate the opening of the exhibition Stephen Mathewson will be hosting a traditional all-American "Grill Party", the first barbeque of the summer! Musical entertainment will be provided by Vienna based Brain Managerz.

Gallery Two features new work and a specially commissioned publication by London based artist Mark Farhall.

Farhall's drawings are an uncanny mix of modernism, avant-garde comics referencing Buckminster Fuller & Jack "King" Kirby along the way.

Fans of the stranger end of the comic genre may already be aware of Farhall's output that has been published alongside underground comic heroes such as; Brian Chippendale, Leif Goldberg, Fort Thunder, Paper Rad, Mat Brinkman, C.F. and Paper Rodeo.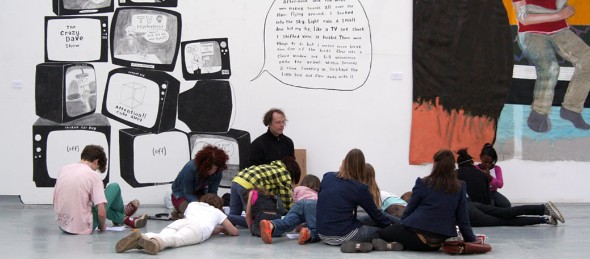 Feast of Fools - Maxwell Attenborough, Stella Capes and Christopher Davies

Nov – Dec 2009

This exhibition, the first show after a brief hiatus, acts as both a festive celebration and a celebration of the beginning of our new artistic programme.

The title of the show refers to the medieval Feast of Fools festival. Traditionally celebrated by the clergy, the Feast of Fools involved a brief period of social revolution when those in positions of power exchange roles with their subordinates.

This suspension of the normal rules and regulations of normal life is a precursor to the modern carnival.

To accompany the exhibition Grammy Award winning film-maker, broadcaster and musician Don Letts will be screening "Carnival!" his documentary about the Notting Hill Carnival followed by a Q&A session.


60 Miles by Road or Rail - Tom Woolner, Bill Drummond, Will Daniels and Tom Price.
Feb - Mar 2009
In 1980 The Northampton Development Corporation produced a 7" single which was released nationally by EMI entitled "60 Miles by Road or Rail" – a reference to the distance of the commute to London. The record was intended to generate publicity for the newly expanded town but was an unwitting indicator of Northampton's dependence on the capital city.

This exhibition reflects on the factors that contributed to the potential closure of the Fishmarket gallery by considering the path taken from the regeneration of Northampton in the early 1980's to its current position. Looking at the the role of art in periods of financial austerity.

Woolner's automated pigeons provide a rhythmic backdrop to the space as they repeatedly defecate over municipal flowerbeds. Drummond's work is a positive call to arms, urging the Northampton public to take action, culminating in a large scale performance surrounding the Fishmarket with at 100 strong choir.

Images from art history are recreated from torn and folded foil in Will Daniels' meticulous and beautiful paintings. Shown alongside is Tom Price's painstakingly observed bronze. Both artists find the extraordinary in the mundane.